*This post may contain affiliate links. Please read our
Disclosure
for more info.
If you have been a successful real estate professional for many years you know that the industry has changed dramatically due to constant developments of many new real estate internet marketing methods. In spite all of this, real estate email marketing has a special permanent place in business plans of vast majority of Realtors. Opt-in email lists became a commodity and are considered to be one of the most valuable assets in marketing and e-commerce.
One of the cons of email marketing for real estate agents is that they have to use opt-in email addresses only according to laws. It means that you can't just go to home owner association of your chosen community and ask for emails, as some of the real estate gurus may teach you.
So, to start real estate email marketing you will have to have a legitimate email list. For new real estate agents compiling their own mailing list may seem like an easy task if they are very active in social media. Soon most realize that in order to have results they need a lot more contacts in the proximity of their geographical area. Concentrating most of the marketing on 2-3 local communities saves time and works better in many aspects, especially for new real estate agents.
Collecting emails legally is a slow process which involves a lot of work and creativity. First of all, real estate agents need to have their very own websites with capability of collecting emails from the visitors. The importance of setting up and configuring a website that will not only attract potential clients but also serve as virtual real estate assistant cannot be overstated. A well designed automated website should be the center of each modern real estate marketing plan. Amazingly, many realtors still don't understand a role and capabilities of automated web solutions. Having a website for them is means having an About Me page with contact information and a standard set of generic links.
Why we are discussing website design here? Isn't this article about email marketing?
Yes, but we are talking about email marketing for realtors that want to build a reliable lead generation system with high conversion rate. Such system requires a number of different tools and methods working together. Each component of the system has its own advantages and shortcomings. Emails as real estate farming postcards should be very short and to the point. Web pages on the other hand can have significant amount of information. Having very short summaries of the articles in email newsletter with links to corresponding web pages adds more benefits to email marketing in terms of web traffic, popularity and developing relationships. But before all that new real estate agents need to find some creative and legitimate ways to obtain email addresses.
Naturally, new websites are not going to have much content and traffic. Since real estate is a very hard niche in terms of Search Engine ranking it may take months and months of hard work even for very dedicated realtors to reach a decent level of organic traffic.
So, what can you do in the meantime to drive targeted traffic to your website in order to collect email addresses?
If you have decided to concentrate on 2-3 particular local communities, consider mailing out or hand-delivering postcards or fliers with links to some valuable information on your website through QR (Quick Response) codes (you've seen these squares that look like matrix bar codes of black and white squares and rectangles on magazines, ads, even street signs). QR codes can be scanned by users' smart phones and lead directly to your website. Corresponding web pages can include details about upcoming community garage sale sponsored by you, a list of the most reliable and affordable local handymen, contractors, electricians, mechanics, etc., or guides on smart remodeling that help increase property values. Sign up for angieslist.com account for a month and compile a short list of the high- rated businesses in your area or use your list of trusted professionals that you've accumulated over all these years of working in real estate (or being a homeowner). Offer this information as a downloadable file in exchange for email address. After several postcards campaigns you will have enough addresses for your first real estate email newsletter.
What are the benefits of email marketing for realtors?
A few are pretty obvious:
Cost-effective;
Personal;
Fast;
Easy;
Increases brand awareness;
Strengthens relationships, etc.
Yes, on surface email marketing for real estate agents stands out as the least expensive method of direct marketing.
It looks so easy that the vast majority of small businesses including realtors follow DIY (Do It Yourself) route, fail and get puzzled why email marketing is considered to be so effective.
If you look closely and analyze what is involved in designing and executing a successful real estate email marketing campaign (note, that keyword here is successful) you may find out that the whole process consists of several steps and is far more complicated than just sending out pre-designed emails.
Any real estate professional knows that success depends on building good personal relationship with potential and existing clients. As with your relatives and friends, showing up unannounced and repeating the same things over and over again doesn't build trust and long-lasting relationship. In order to establish close personal trust you must find common interests and provide useful and interesting information related to these interests.
Below are the most common mistakes that Realtors do with their email marketing:

Talking about yourself instead of what may interest your clients and instead of offering solutions to clients' problems;
Sending email newsletters too frequently;
Sending emails that are too long;
Sending articles about real estate only;
Not including "read more" links to your website from email itself;
Sending SPAM to people who did not give their email addresses to you voluntarily;
How to make your email newsletter interesting, readable and useful for your clients?
If you learn how to do that you would not only stay in touch with your current and past clients, but would also grow your business through referrals. As we all know, 'Forward' button is the second most used one after 'Send' in our email interface. We all love to forward interesting facts, useful practical tips and jokes to our family and friends. Your goal is to create such email marketing campaign that will not tempt your recipients to click 'Delete' without even reading it.
For example, create pages on your website with community information exchange listings like reputable handymen info, garage sale dates, and youth sporting events. Many people watch popular TV shows like House Hunters International.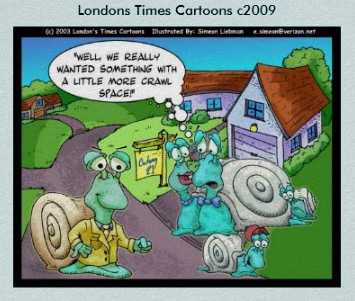 Create a fun informational page where you will show people what it costs to buy properties in different countries. People like having a dream about a small rustic house in Tuscany or Caribbean vacation place. In your newsletter include 1-2 paragraphs from each of these pages with "Read more" links to the full versions on your website. This will create quality traffic and social references that will boost your website's search engines rank. It will help you in build trust and name recognition. Email marketing for realtors doesn't have to be boring!
You may get (purchase) cartoons for your email newsletter from websites like offthemark.com  by Mark Parisi.
Once your website's landing pages are done it is time to find good online email marketing service. Do-It-Yourself option will not cut it for several reasons: you need professional looking templates, tools for campaign results tracking and scheduling, tools for mail merge and the most important feature – deliverability. These companies can send hundreds and thousands of emails an hour. Your internet provider may have a very low limit on a number of emails per hour. Often your email server can be blocked by other servers like AOL, for example, for sending bulk emails. All of the top email marketing services do not have these problems and you will be saving time and avoiding a lot of frustration.
Here are a two of the best email marketing services that have the highest rating among millions of users:
Both companies offer affordable plans with outstanding service, resources and customer support.
To summarize, Real estate email marketing newsletters should be designed not only for generating direct leads but also for promoting your website as the main source of useful local community information for your clients. By providing useful services you will be building their trust. Do not just settle for a generic cookie-cutter website with boring set of standard links. Your custom website can and should be an extension of your email newsletter leading readers to unique and useful resources. Many of the best real estate email newsletters include humor, travel, home décor and remodeling sections besides serious real estate topics.
Use a mix of several traditional methods like paper newsletters and postcards with QR codes to drive traffic to your website and collect new email addresses in exchange for hard to find information. These informational postcards in addition to industry standard ones like "Just Listed" or Just Sold" may help you to cover different demographics and get more real estate leads.